Transfer from Kihihi Airport to Buhoma, Bwindi National Park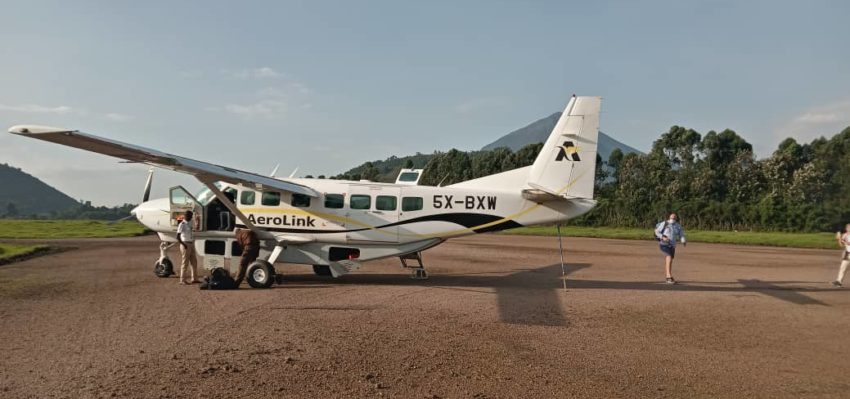 The round trip transfer from Kihihi Airport to Bwindi Impenetrable National Park is organized for tourists visiting Bwindi Impenetrable National Park for gorilla trekking who need a quick pickup from Kihihi airport to the lodge. Kihihi Airport serves Ruhija gate on the eastern side of Bwindi and Buhoma sector in the northern section of Bwindi Impenetrable National Park. 
When guests arrive at Kihihi Airport, a Bamboo Ecotours driver-guide will meet you at the airport and drive to Bwindi National Park. The drop-off location is Buhoma gate, depending on the location of the lodge. Our drivers are always dressed in company uniform and should be easily identifiable. AeroLink Uganda Limited is the only flight company with scheduled flights between Kihihi Airport and Entebbe International Airport.
AeroLink Uganda Ltd. currently organizes domestic flights between Entebbe International Airport and Kihihi Airport. Typically, there are flights scheduled for the morning hours and in the mid-afternoon. Check the AeroLink Uganda website for more updated information on the flight schedule.
Why book the Kihihi airport transfer with Bamboo Ecotours?
This private transfer service from Kihihi Airport to Buhoma, Bwindi National Park, provides an opportunity for tourists visiting Bwindi National Park to encounter the remaining mountain gorillas. By flying into Kihihi airport from Entebbe airport, you avoid spending almost 9hrs driving the same route. When you arrive at the Kihihi airport, you will be greeted by our professional drivers and transfer to the lodge. On day three, you will be dropped off at Kihihi airport & fly back to Entebbe Airport after the gorilla trekking.
What is included and excluded in the transfer fee?
The round trip pickups from Kihihi airport are inclusive of fuel and driver-guide. Costs for accommodation, gorilla trekking permits, and all other costs are not included in the transfer fee. For the transfer, please contact us for more information. We will respond promptly.